Koetting Insurance and Resource Agency was founded in 1983 by Michael Koetting after working as a direct writer agent and then for an insurance company.
The agency began with a concentration on writing auto and homeowners policies, but quickly grew with the addition of commercial insurance to its coverage portfolio. Today the mix is roughly 65% commercial and 35% personal auto and homeowners. Life and health insurance are also a separate department with an emphasis on group health, individual health, and Medicare supplements.  Also available through the agency are contractors performance bonds along with other types of bonding.
The agency takes an active role when a client has a claim by staying involved with the claim from beginning to end.  We value our reputation for honesty above all else in our dealing with clients as well as the insurance companies we represent.  This earnest approach has fostered a trustworthy relationship with our companies over the years that now allows us to attain the most competitive quotes available for our clients.
In our 30 plus years of experience we have never had a single complaint turned into the Department of Insurance and we believe this can be attributed to our broad knowledge of insurance practices and candid dealings with all.
Owner, Michael Koetting, has also completed a 5 year study program which grants him membership into The Society of Certified Insurance Counselors, a designation that only 5% of current agents are able to achieve.
Why do business with Koetting Insurance?
Unlike a captive, or direct insurance company who only offers their own proprietary products, our agency is 100% independent of any one company. Many insurance consumers don't fully understand just how important that really is.
When it comes to something as important as insurance, it's imperative that you work with an agency who has an in-depth knowledge of multiple insurance products, companies, and guidelines — not just one.
At the end of the day, what separates one agent from another, is their ability to proactively service their policy holders, and their knowledge of the insurance industry, products, and different situations that may present themselves to their clients.
Independent Agent Vs. The Rest
Here is a quick comparison of the differences between an independent agency like us, and the various other types of companies that are out there: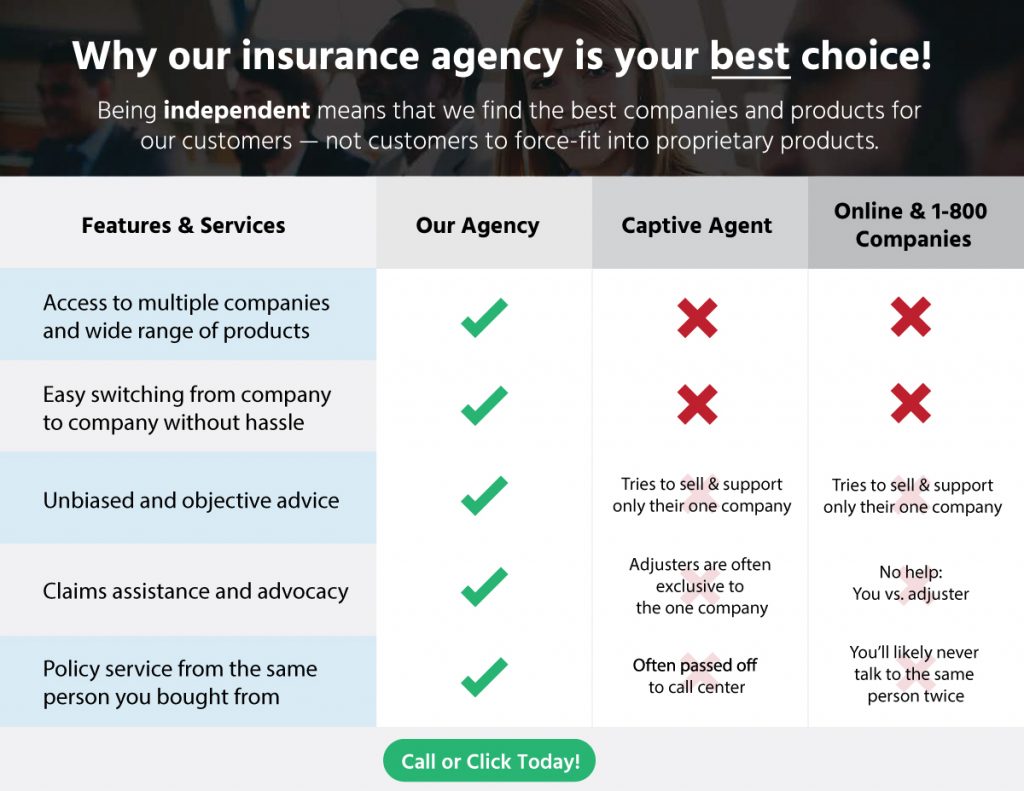 If you'd like to get started with a complimentary quote and/or policy review, we'd be happy to help you any way we can. Simply complete the fields below to get started online in a matter of seconds.
We appreciate the opportunity to help you, and look forward to servicing your insurance needs! Feel free to call us directly if you have more detailed questions.